Heavy Duty Speed Bumps - Ramp Sections. 1 Black/1 Yellow (Set of 2)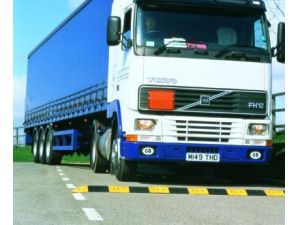 Heavy Duty Speed Bumps - Ramp Sections. 1 Black/1 Yellow (Set of 2)
ebuy number: 12904
Region: UK
Highly visible in bright yellow and contrasting black with integral cats eyes on each side for maximum visibility. Immensely strong and suitable for fully laden heavy goods vehicles and areas of intense traffic use. Rounded end caps to protect cyclists and pedestrians from injury.
The underside of each section is moulded to take a standard scaffold pole for ease of alignment and stability.
Grooved surface assists traction in wet and icy conditions.
Suitable for fully laden vehicles.
Bolt holes are pre-moulded. Patented Expandaplug fixing sets supplied as a set of four available at extra cost.
Limits speed to approx. 5mph.
Yellow end caps supplied as a set of two. Use at each end of ramp.
WxL per section: 350x250mm.
H x W x L (mm) : 70 x 410 x 250
Description: Set of two standard ramp sections - 1 black/1 yellow