Recylcing Bin - Slim Jim, Rubbermaid. Confidential Container. 87L Capacity. Grey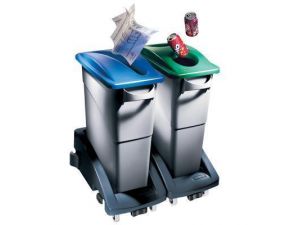 Recylcing Bin - Slim Jim, Rubbermaid. Confidential Container. 87L Capacity. Grey
ebuy number: 8743
Region: UK
For indoor or outdoor environments. Efficient size and shape for tight spaces.
Confidential document security container with lockable lid.
Tamper proof lock to keep documents safe prior to shredding.
Narrow top opening prevents unauthorised user access.
Supplied complete with lid.
Colour : Grey
Capacity (L) : 87
Height (mm) : 785
Width (mm) : 510
Depth (mm) : 280
Recycling...for a better tomorrow!
For the sake of all our futures, we must place greater emphasis on recycling and this is only possible when waste is sorted before it is discarded. This range encourages selective sorting of rubbish and helps you collect waste products easily and efficiently.