Recycled (80%) Cast Stretch Film Hand Rolls 450mm x 300m Green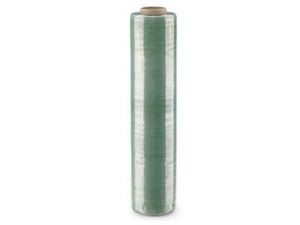 Recycled (80%) Cast Stretch Film Hand Rolls 450mm x 300m Green
ebuy number: 131506
Region: UK
With a performance equal to those of those of standard hand stretch film rolls these Recycled Stretch Hand Rolls incorporate 80% recycled material, 30% from post-consumer waste and 50% from post-industrial waste.
With the same features and functions as standard hand stretch film these recycled rolls are tear and puncture resistant with an adhesive coating on both sides to ensure a stable load once wrapped. Available in transparent tinted green or black rolls.
Transparent Recycled Stretch Hand Rolls which are tinted in green are available in 3 different thicknesses; 15µ, 17µ, 20µ. The black rolls are 17µ. The width of each roll is 450mm and the length is 300M. Core diameter 50 mm.
Sold in packs of 6, priced per roll.