Water Soluble Eco Capsules Glass & Window Cleaner Fragrance Free Pack of 40 Profimax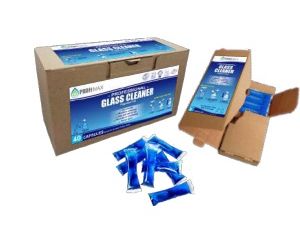 Water Soluble Eco Capsules Glass & Window Cleaner Fragrance Free Pack of 40 Profimax
ebuy number: 131501
Region: UK
The eco capsule refill system allows users to continually reuse containers such as plastic trigger spray bottles over a wide range of cleaning applications. Each eco capsule contains the exact dose of a super concentrate to give an effective ready-touse cleaner upon dilution. As the super concentrate is encapsulated in a fully water-soluble film, there is no need for cutting or tearing and no risk of coming in contact with the concentrate. Simply drop, add water and shake until dissolved. As simple as 1, 2, 3.
The revolutionary "just add water" eco capsule system offers users a whole host of benefits. As we have removed the water, they are 90% smaller and lighter to transport and store. This significantly reduces their carbon footprint relating to transport and prevents the unnecessary redistribution of water. All helping us to offer quality products at very affordable prices. In addition, our qualified team of scientists ensures that only the best, safest and most effective biodegradable ingredients are used in all our products. Now eco-cleaning no longer needs to mean expensive or ineffective cleaning with our small yet powerful eco capsules.
PROFIMAX Glass & Window cleaner removes stubborn dirt, grime and water spots from all glass surfaces, leaving them crystal clear and clean. With its anti-static, anti-fogging formula, it keeps glass surfaces cleaner for longer. It has no pungent odour and with its fast drying, yet low on VOC, forumula promotes streak free shine every time.