AntiBak Tablets: Chlorine Free Hard Surface Disinfection Tablets - Tub of 100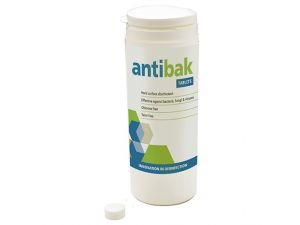 AntiBak Tablets: Chlorine Free Hard Surface Disinfection Tablets - Tub of 100
ebuy number: 127677
Region: UK
AntiBak Tablets are ideal for the effective decontamination of all hard surface areas, including table tops, counters, food preparation areas, trays, cold stores and display cabinets. Add one chlorine free tablet into a trigger spray bottle, add water and in under two minutes you're ready to clean and disinfect any surface ? it?s that simple! Note on viruses: it is currently difficult to have products tested against Coronavirus but AntiBak Tablets have been tested and shown to be effective against non-enveloped virus Norovirus (99.999999% kill rate) and enveloped virus H1N1 Swine Flu.
Small tablet, huge cleaning power - each tablet makes 500ml of powerful disinfectant
Powerful and effective - tested to international standards & proven to kill bacteria in seconds
Exact dilution, every time - no complicated mixing required
Long lasting - solution remains effective for up to 7 days
Chlorine-free and odourless - taint free & UK CCFRA approved
Compact & cost effective - space-saving with no need for hazardous liquid chemicals storage Supplied in tubs of 100 tablets, providing up to 50 Litres of powerful disinfectant.
Price is exclusive of VAT
Please contact cis@craig-group.com to place an order